Page: Tarrifs and reservations Rural lodging " The Barn "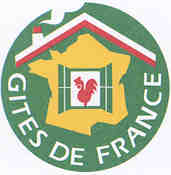 ---
Tariffs: (season 2006 - 2007)
Summer: Low season tourist season
650 Euros 700 Euros
Winter: low season tourist season Christmas New Year's Day
700 Euros 800 Euros 850 Euros
Weekend (3 days / 2 nights) except periods holidays: 325 Euros
Possibility of tariffs adapted of except periods of holidays according to the number of people
All our tariffs are valid for 1 week for 8 people to which you must add a visitor's tax of 0,70 Euros per night and anybody old of more than 12 years.
The period of hiring begins from Saturday until Saturday.
Arrival with 4 hours pm and departure saturdays following to 10 hours am.
Except holidays, the period is adapted at the request of our hosts.
---
Reservation:
It is very simple! For one weekend or a stay, you can is:
- to contact the service of reservation in line of Leisures Savoy Reception to the address:
http://www.gites-de-france-savoie.com then to seek the rural lodging n° 211120
you will have the planning of the reservations and the availabilities in line and up to date.
Tél : 04 79 85 01 09 Fax: 04 79 85 71 32
----------------------------------
- or to address a mall Annick or to Raymond to the address : rcombaz@aol.com while specifying:
- - your co-ordinates (name, first name, address, telephone number),
- - the period of the stay wished
Tél : 04 79 38 02 94 Portable: 06 81 03 71 35
Do not hesitate to contact us for all information
Annick and Raymond commit themselves answering you as soon as possible
---
Other sites to be visited near "the Barn":
to 500 meters, http://lupins.queige.free.fr : Two apartments are proposed in hiring apart from the school holidays of the Paris area.
to 2 kilometers, http://perso.wanadoo.fr/gite.queige : List inn of Molliessoulaz
to 4 kilometers, http://membres.lycos.fr/grangeauxloups : 6 rooms and tables of hosts
to 300 meters, http://fermedessapins.free.fr : sale and to taste products of the farm
to 4 kilometers, in Venthon; Inn, bar, grocer, Rooms of inn tél: 04 79 38 48 59
See photographs and information
Tourist bureau of Arêches-Beaufort: http://www.areches-beaufort.com
---
Other sites:
| | |
| --- | --- |
| | |
| Soutien pour le handicap | |